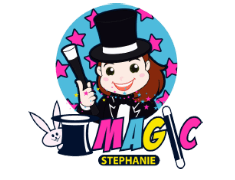 Magic Stephanie is a young and exciting entertainer. With her sense of fun and and vibrant mix of magic, theme tune games, dance games, plate spinning, toilet paper snow storm games, music and lights you are assured of a party that is one to remember, packed full of entertainment that will keep the children enthralled from beginning to end and talking about it for days to come! She also has a real rabbit which is part of her show and the children get to stroke at the end of the party, which proves particularly popular with younger children.
Looking for something a bit different? Magic Stephanie has been working on a UV puppet show that will be available to book from mid-September!
Back from a Summer tour of Scandinavia with a brand new show! Something a bit unusual and unique. You can have a whole puppet theatre in your venue, as part of your party. Inspired by music and energy, UV puppetry takes the traditional tales and makes them come alive in complete darkness. Magic Stephanie can bring joy and laughter to you and your guests and could take you on a worldly adventure.